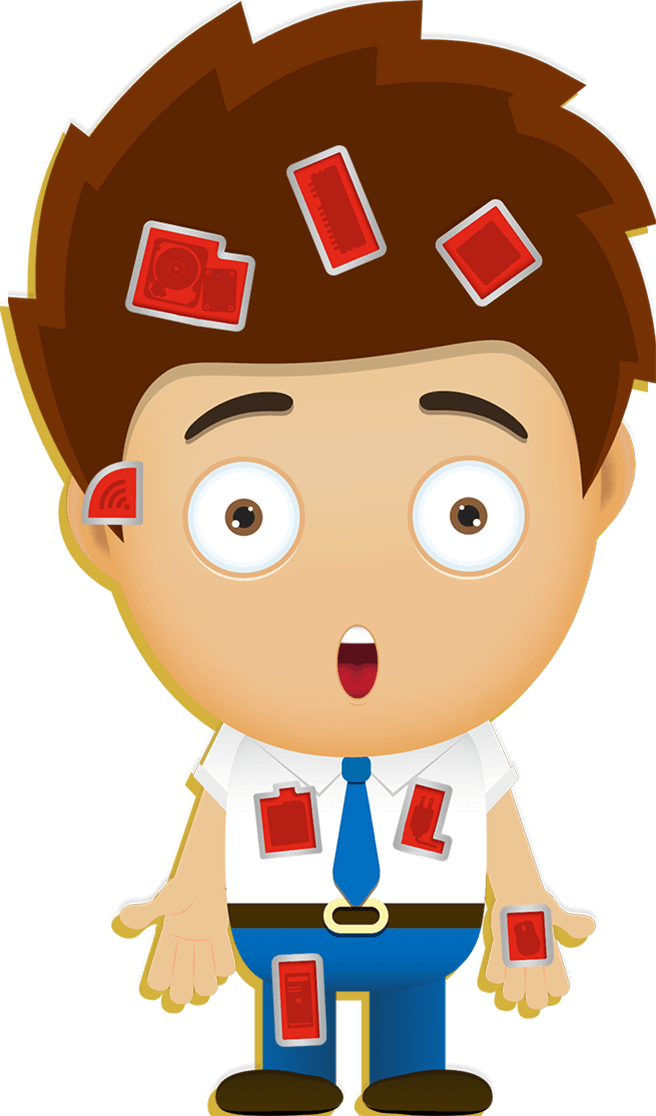 CASE STUDY /
OPERATION STATION: PARTS OF A PC
TRAINING STRATEGY
Knowing the basics of PC hardware components puts the sales professional on the path to knowledgeable interactions with customers. Our training introduces/reinforces knowledge of basic PC parts in a fun and interactive way to help sales professionals —especially those who may be new to selling and technology—learn and retain this vital information.
GETTING INTERACTIVE
Like the classic childhood boardgame Operation, we've created a character in need of some basic anatomical parts to complete him. Users click and drag PC parts into the correct containers on the character's body to complete each lesson with a definition of the component. Reinforced with how these components work and their basic functions, this interactive exercise teaches rudimentary PC parts in a fun and memorable way.
PUTTING IT ALL TOGETHER
Gamification at work. Information, interaction and knowledge retention converge in this highly original training module. The client was able to disperse basic information about the innerworkings of PCs in an imaginative and gamified manner without resorting to longer, dryer and less captivating formats that could create dissatisfaction for the brand.
TRAINING FLYTHROUGH
The highly trained Motivation Technologies video specialists depended on years of creative arts training to develop a training course that harkened to a simpler time, with a classic boardgame simulation that reinforced basic learning in a fun and interactive format.
COURSE STATISTICS
Training Completions:
8,315
"Puts a gaming feel to learning. Great job."
Level of Technical Content:
71%
"I took this more than once because I liked it so much."
THE RESULTS
Because of interactive trainings like this one, our Top 50 tech client was able to impart some basic information in a memorable way. Fostering creativity in an online community of likeminded retail professionals, this training fit well within the structure of the program, building brand advocacy while strengthening knowledge and selling skills.